Free Shipping on orders over $120
Aus-wide *Excludes Framed Orders
AfterPay
Enjoy now / Pay later
Save 5%
Sign up to our mail list
We're an independant service based art gallery, run by artists, supporting local and international creatives. Operating out of Newcastle NSW, our vision is to help facilitate the needs of all makers & creators to ensure their work is handled delicately and delivered with optimum care.
100% cotton archival stocks & lightfast inks
Retouching & colour matching
Colour matching original artworks & removal of imperfections
Turning your original artworks into digital prints
With our tracked service, domestic shipping is free with orders over $120
Let our team help to make your work sing
Fun, educational classes for both kids & adults
"We have been printing with The Mitch Revs Gallery for over 7 months now & we couldn't be happier with the service they provide. Fantastic quality printing combined with the best customer service. So stoked to have found them upon launching our Print Store and will continue to go through this gallery well into the future"
Sarah T
"I have a 13 year old grandaughter who has now attended 5 decked out classes. She has gained so much confidence from all the encouragement and compliments, that she has applied and been accepted into the shine arts program at her high school. I can't thank all the crew at The Mitch Revs Gallery enough"
Greg Anderson

Director of The Mitch Revs Gallery & Pinot and Picasso Newcastle.
Starting as an apprentice tattooist, Mitch found he had a natural talent for drawing and creating and wanted to turn what became a one-on-one piece of art, into something that could be shared and enjoyed by many. Mitch's checklist when creating art is simple: Does it make people smile? Does it make people happy? And so, in 2013 this self-taught artist transitioned into designing and painting murals, fine art pieces and digital illustrations.
But first, what made people smile and feel happy?
Colour, humorous scenarios, colour, imparting life lessons, colour, our oceans, bright colours.
A distinctive and recognisable cartoon style, MR's work reflects his adoration of the ocean, surfing, skating, nature, animals, sea life and community. Each piece he creates gives you the opportunity to join him in that happy moment, feel nostalgic and understand the freedom of creativity.
A message from Mitch:
"Let yourself be surrounded by colour & creativity.
Right now in this moment you are here.
Be present. Enjoy!"

Please email us any questions you have regarding Art - Murals - Media Enquiries & Brand Collaborations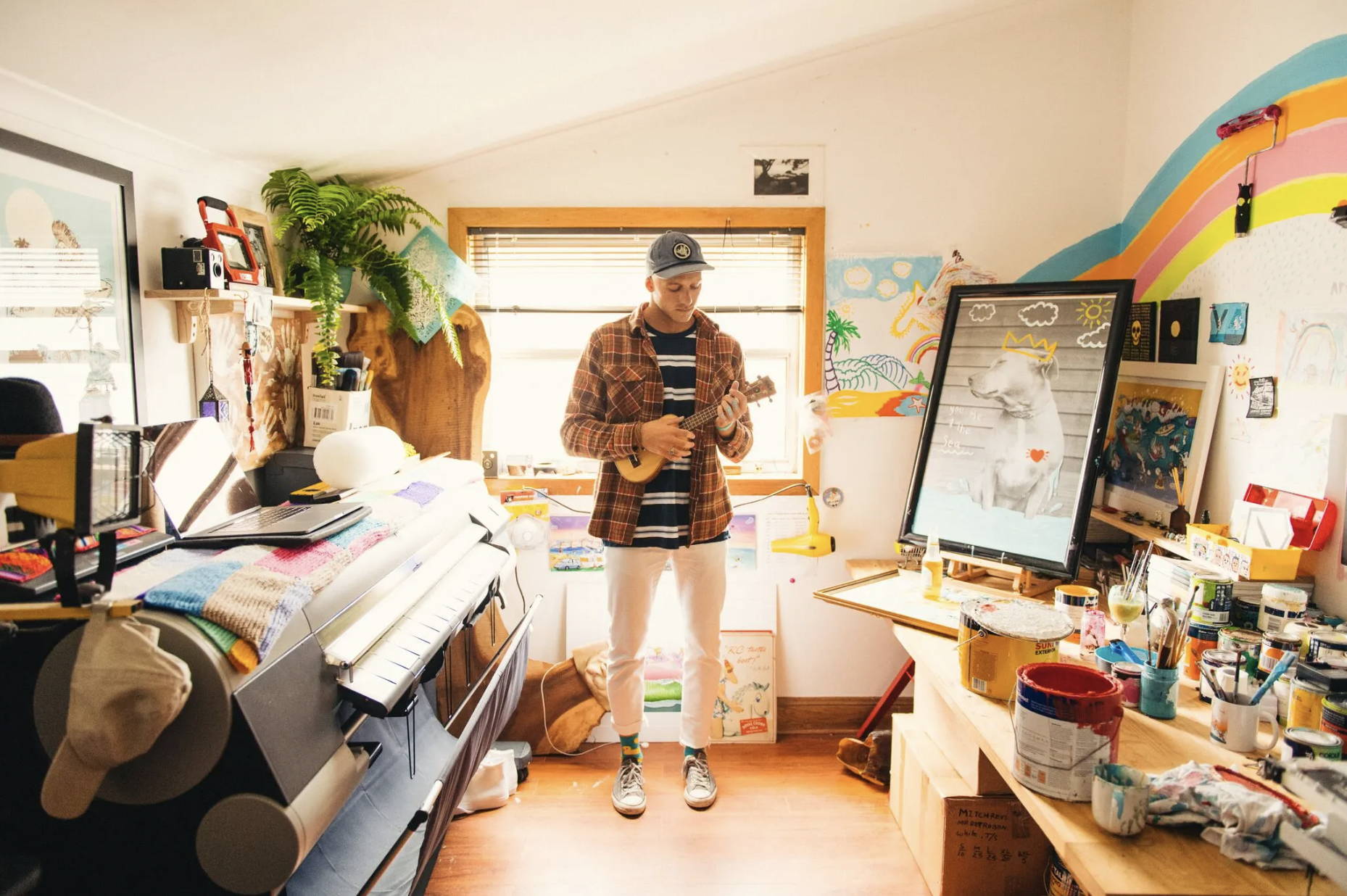 Subscribe and save 5% off your first order
Don't worry we promise not to spam you // You'll be the first to get exclusive releases & VIP offers