Located at 77 Berner St Merewether, The iconic Burwood Inn has now been forever immortalised in Mitch's classic Illustration style, commissioned by the Burwood Inn's Owners.
Whether you have stayed in their boutique style accommodation, dined in with family, or just stopped in for a sneaky bevvie, we are sure you will be able to relate to the fun and comical scenes Mitch has created throughout this piece.
For the first 24hrs of this print release Mitch will be donating $50 from every print sold to the Mark Hughes Foundation.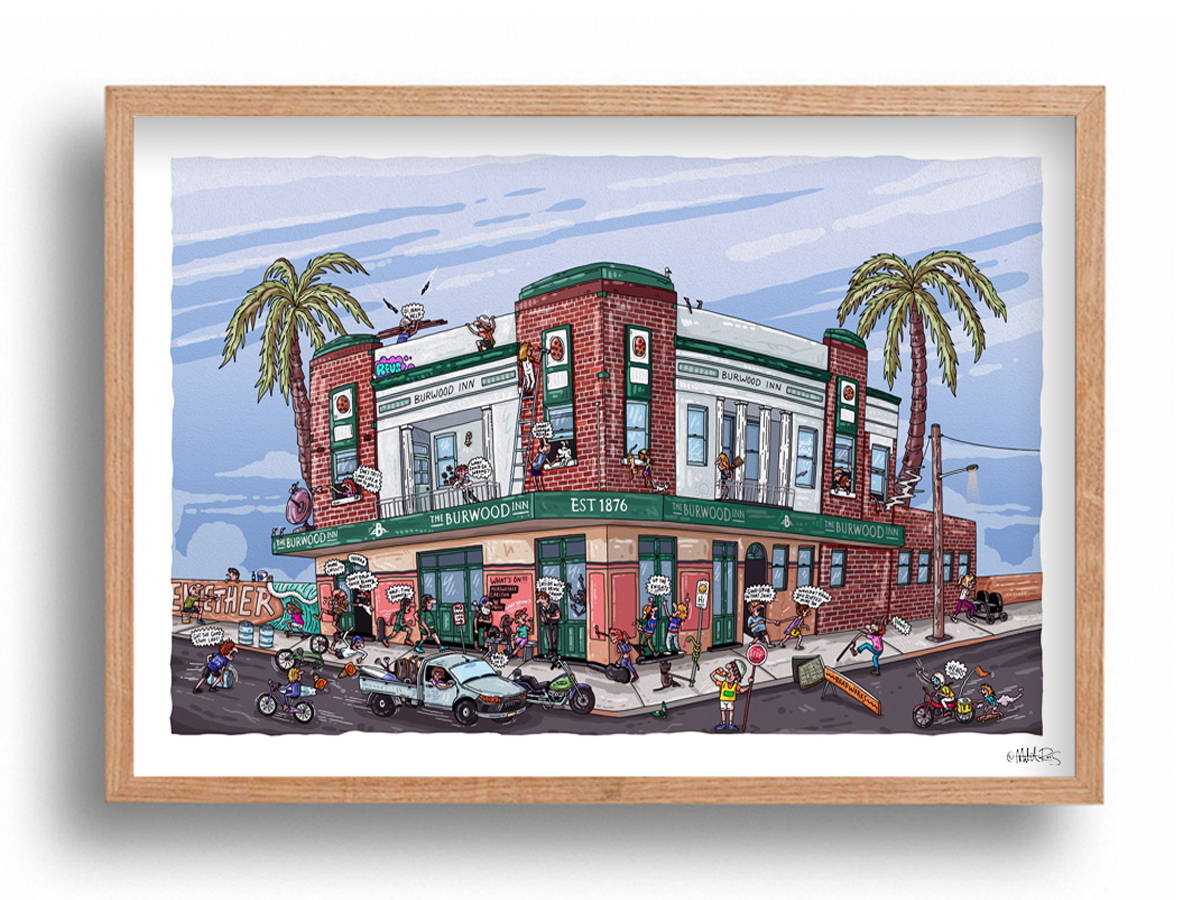 This beautiful panoramic Illustration of Dudley Beach was created for Charlie's Run for Kids, a 5 day charity marathon run from Seals rocks to Dudley Beach which raises money for families with children battling childhood cancer. 
The original artwork was donated and auctioned on the 20th of March 2022 at the Dudley event and was sold for 30K with all the proceeds going to CRFK. 
All Dudley Beach artwork print sales on the day raised a further $6K for CRFK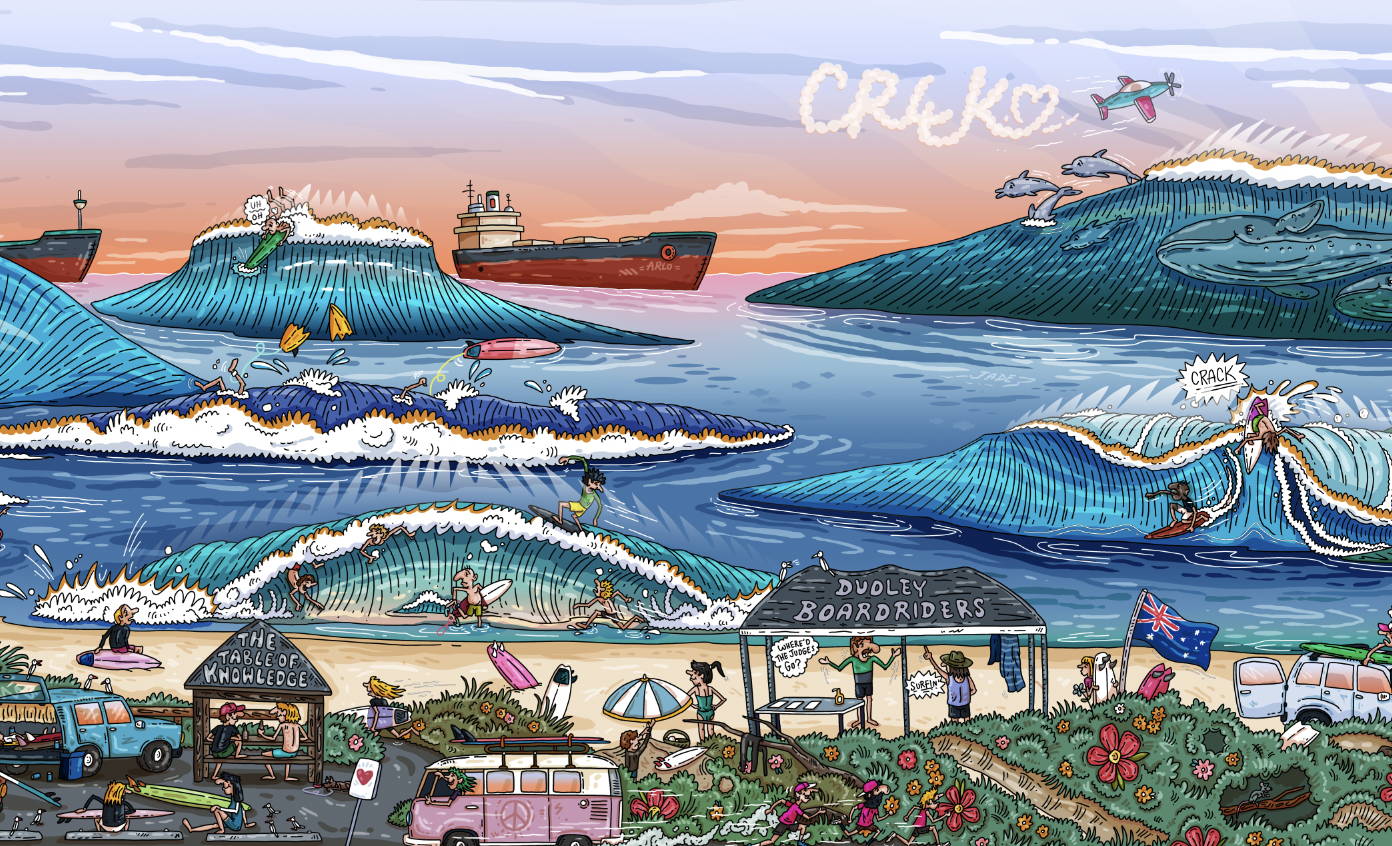 MIKE EGGLESTON // BYRON BAY "ONE PERFECT DAY"

We are super excited to bring you another Mike Eggleston re-release.
For the first time since 2000, Mike's One Perfect Day // Byron Bay print is now available.
Be sure to get your hands on one of these classic prints as they won't last long.
Limited edition numbered prints start at 501/ 600.  
Size 50cm x 85cm.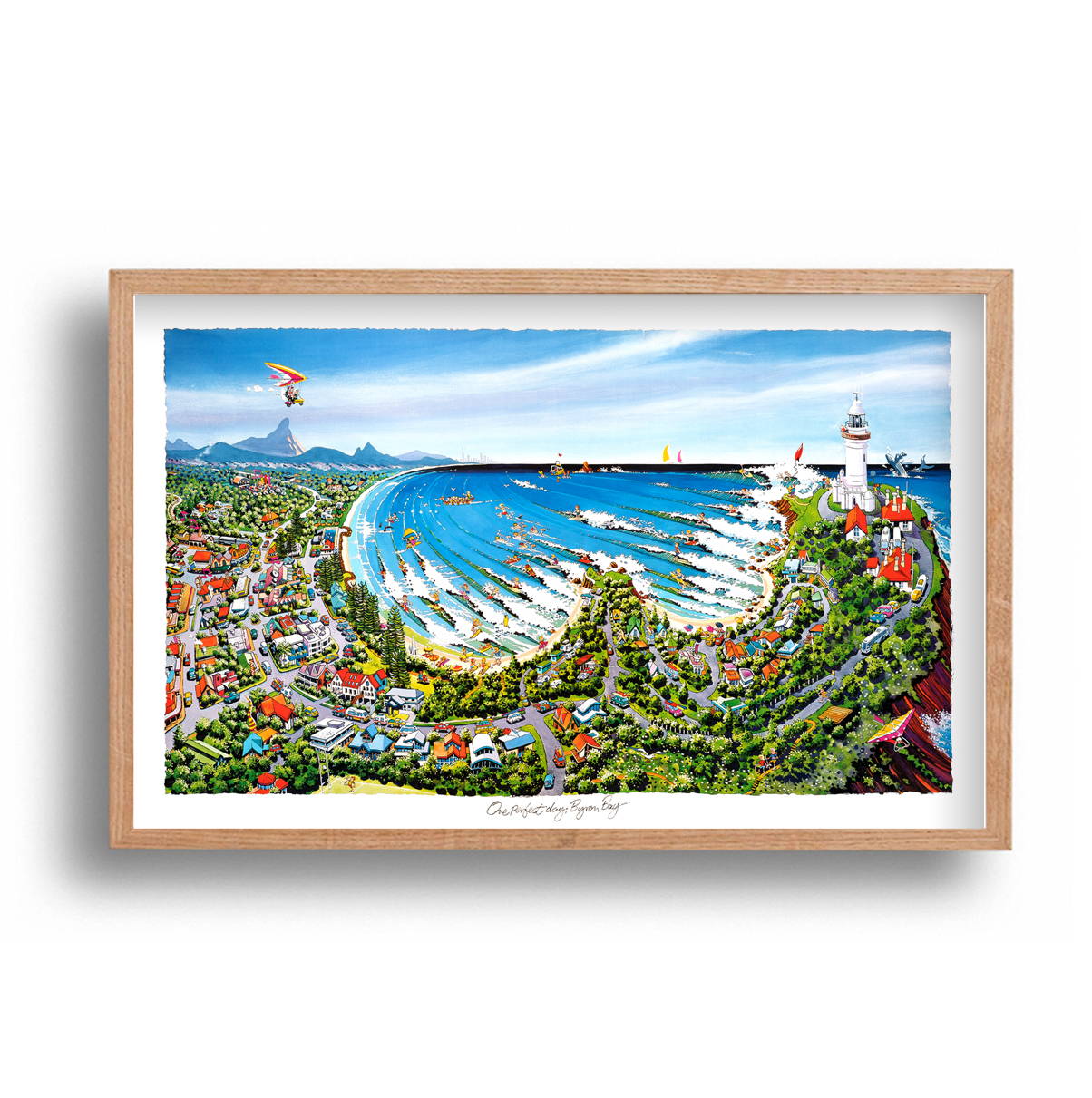 2022 VALENTINES COLLECTION
These 9 Limited Edition Artworks are part of an exhibition that will be held in the Mitch Revs Gallery on Saturday the 12.02.2022
"A series of Love Stories" was created as a daily reminder that its the little & simple things in life that truely fill our hearts.
The first edition of each piece will hang in the Exhibition, while prints 2-10 will go live at 7PM 02.02.2022 to give those in other states a chance to collect a piece from this lovely collection.
Goodluck,
Enjoy x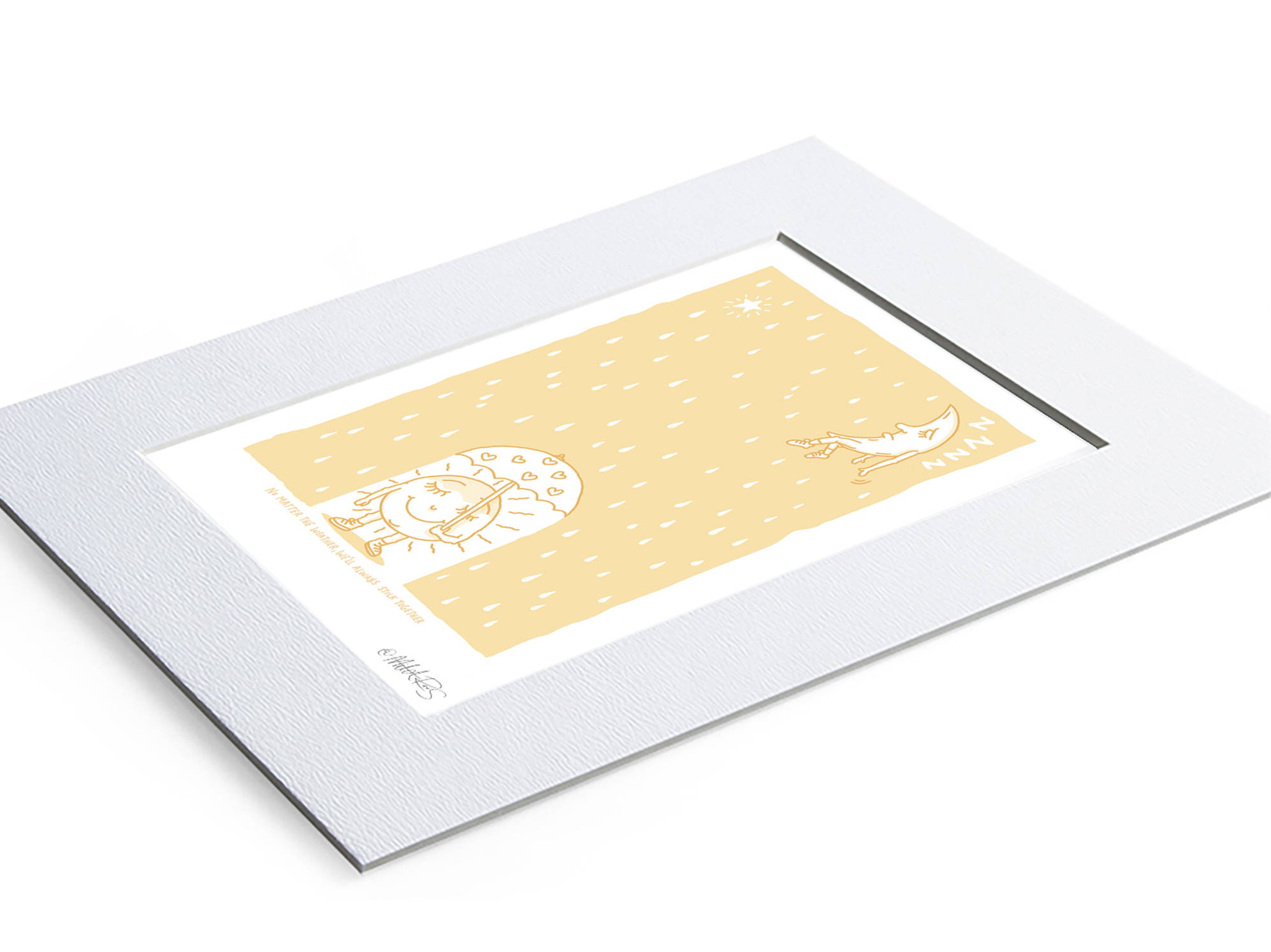 The most requested artwork of 2021 is finally here!!!
Whether you've been relaxing by the Ocean Baths, playing with the fam in the kids pool, running the infamous stairs or just admiring the view from the multi-level landscape, most Novacastrians have a cherished memory of the MOB.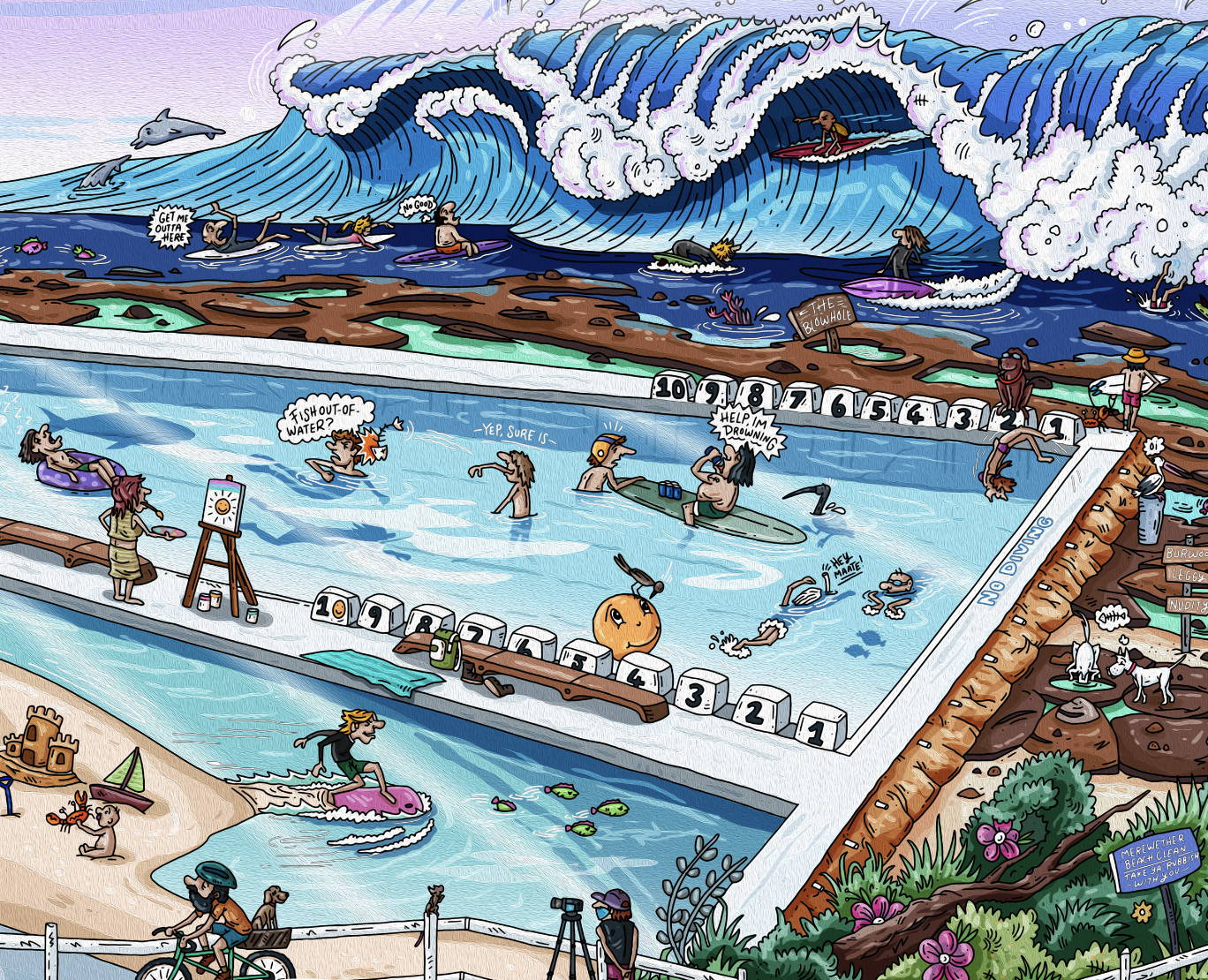 We are bouncing into the new year with a brand NEW artwork release that has been created with our local community in mind.

Recently we have received many requests, in response to the removal of the "The Frog Pond" and we felt it's only right to create a commemorative piece of this area.
We have loved watching this space organically grow, be shared and loved by so many Novacastrians, particularly over the past 2 years!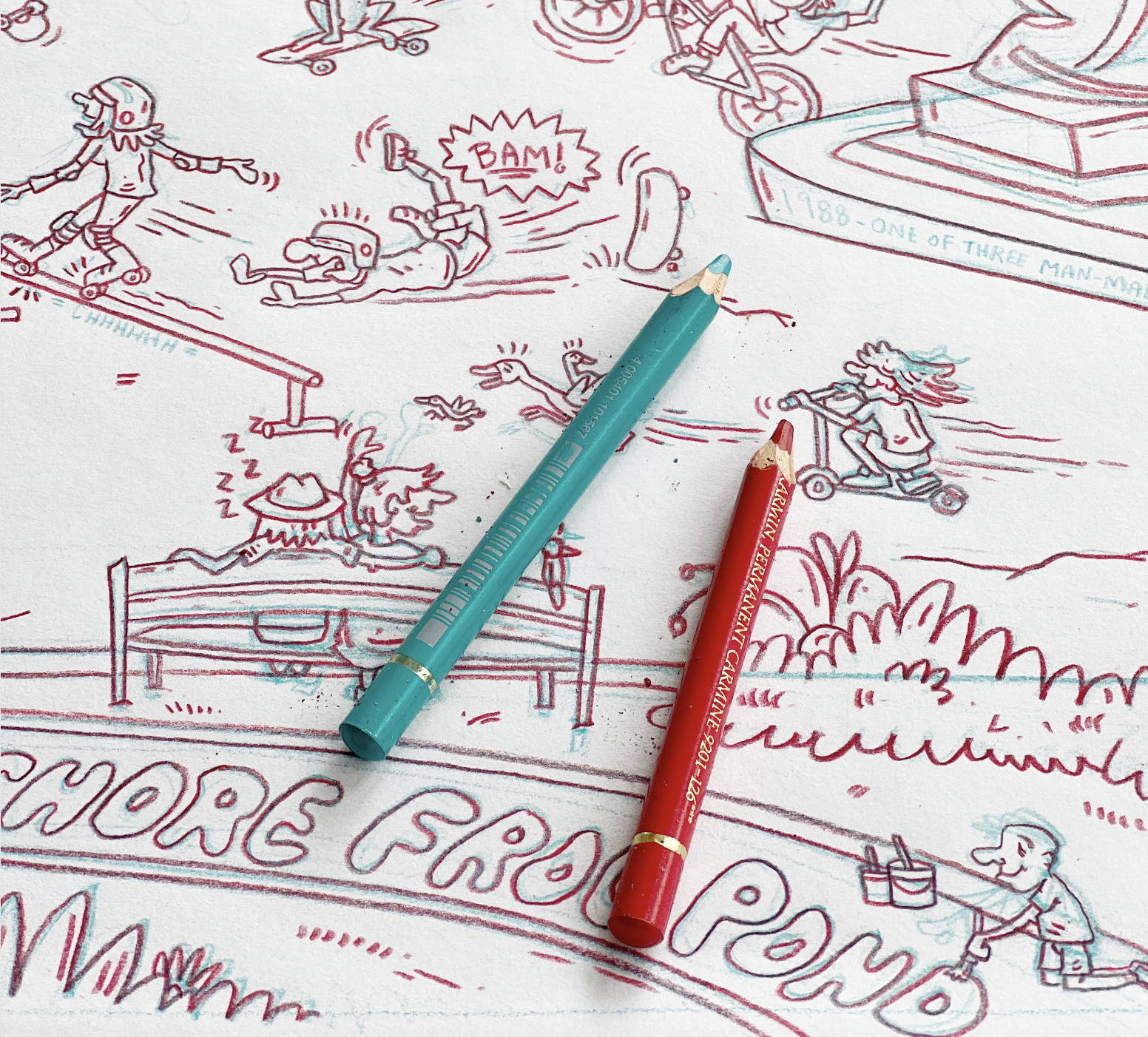 The Mitch Revs Art Collection
Fine Art Prints // Beaches, Landmarks, Animals, Flowers & Poems
Free Shipping on orders over $100
Aus-wide
AfterPay
Enjoy now / Pay later
Save 5%
Sign up to our mailing list
-Don't miss exclusive MR offers-
Sign up save 5% off your next order

Thanks!
This field is required
This field is required